Earlier this month, I sent out a survey to the readers of Now I Know. More than 2,700 people responded! Thank you for participating if you did; if you didn't, you're still OK by me.
Let's jump into the results.
1) "Pick One" — The Harry Potter edition
I asked readers to pick their Hogwarts house or to identify as a Muggle, but gave no context beyond that. (The question simply said "Pick one,"  which I do a lot in such surveys, and didn't specifically mention Harry Potter.) There was no "Huh?" option and the question wasn't skippable, so if you didn't get the question, you had to choose randomly to continue — or not take the survey at all.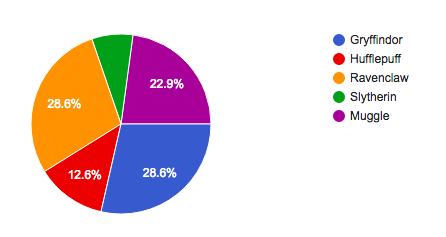 Wow, that's close! Looking at the raw numbers, Ravenclaw beats Gryffindor by one vote! I didn't take the survey myself, but I'd have chosen Ravenclaw too — I'm a trivia nerd after all! — so maybe call it two votes.
One other note: Google Drive (which powered the survey) chooses the colors here — I think it's pretty funny that it made Slytherin green.
2) "Which do you like more?" 
I asked this because I get a good amount of positive feedback about the Weekender and started to wonder whether it had become more popular than the regular daily stories. The results below surprised me a lot.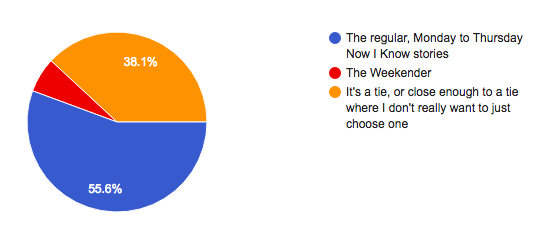 That said, the format isn't going to change.
3) "Have you read any of these books? Check all that apply."
Nothing specific sparked this question. I tried to pick books that started with the letter M, and with the slight exception of "From the Mixed-up Files of Mrs. Basil E. Frankweiler," succeeded.

For what it's worth, I've read all the above except for "The Man in the Iron Mask." I liked all except "The Magicians," which I thought was very well written and told but put me in a rotten mood. The characters are just terrible people. (The Syfy TV show, though, while very dark at points and certainly not for everyone, is excellent.)
4) "Now I Know has a Patreon page, which means readers like you can help fund the work I do. Choose the one which applies best to you."
I don't have any comments to add here except that you really shouldn't feel bad if you don't contribute, and that if you do contribute, I really appreciate it 🙂 Oh, and I'm working on that no-ads-for-patrons thing, but it's going to be a while.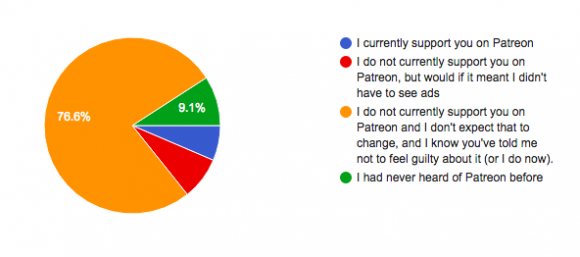 5) "Which of the following responses will be the most popular response"

This one didn't work right. First, the results; then, I'll explain.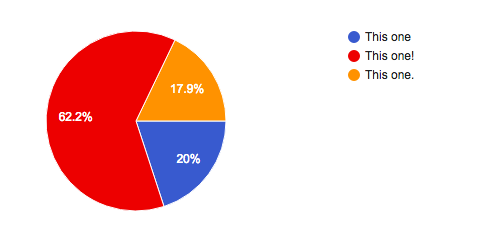 When I first created the survey, all three answer choices said "This one" with no punctuation. Shortly after the survey went live, a reader emailed me about a mistake on another question (I can't remember what it was, sorry). While fixing it, I noticed that Google was treating all three "This one" answers as the same — regardless of which option one chose (and only a few dozen of you had replied at that point). That wasn't going to work, so I quickly made a change, adding punctuation marks. I guess people really like exclamation points.
6) "Imagine it's 2016 and you're about to vote for President of the United States. (Assume you have a vote.) If you had to vote for one or the other, who would you vote for as President of United States? (note: this one is optional.)"
Before I get to the results here, I want to mention two things: First, about 85% of you decided to answer this, despite it being optional. Second, I asked virtually the same question in May of 2016, receiving a similar number of responses. Note that the people who took the surveys don't match up 1:1, of course, so this isn't a good, scientific tracking poll; I'd not draw too many conclusions from this. Still, it's interesting.
Without further comment, here's what the results looked like in 2016 and then 2018.
2016: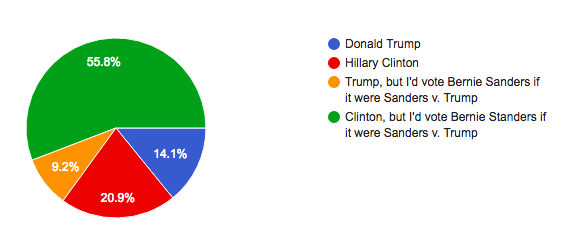 2018: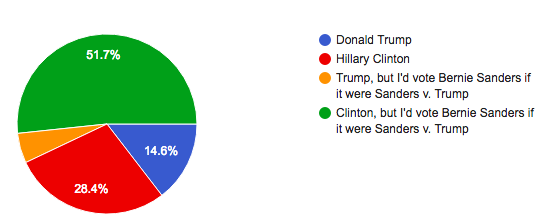 (The orange slice of the bottom chart is 5.4%)
7) The question with no question, and only one answer choice.
In editing question #5 (and whatever else needed fixing), I accidentally created a ghost question — there's no text and no choices other than an ominously named "Option 1." This was a failure of technology — I was editing the survey on my phone and Google's software isn't set up for that, and this happened. By the time I got to a laptop to fix it, a lot of people had taken the survey. I decided to keep it. 100% of those who answered the question chose "Option 1," obviously, but more interestingly, fewer than 25% of you decided to answer the question.
Yay for accidental experiments!
8) "Pick a Mr."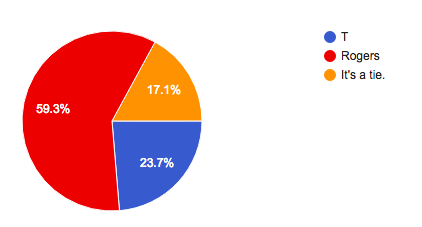 I don't find the results above surprising. Both Mr.s are very underrated.
(I'd have gone with "Rogers" or maybe "It's a tie.")
9) What goes on a hot dog?
This was a reader-submitted question (I think I solicited them on Twitter).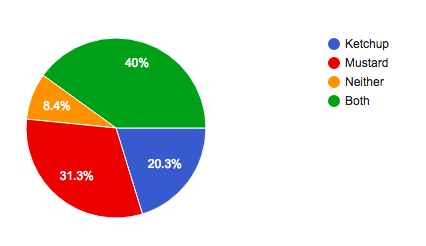 I don't have particularly strong feelings here. I'm not a big ketchup fan in any context, except maybe with french fries. I am a big mustard fan in general. But I don't eat a lot of hot dogs.
10) "Does pineapple belong on pizza?"
Another reader-submitted question, although I added my own riff to it.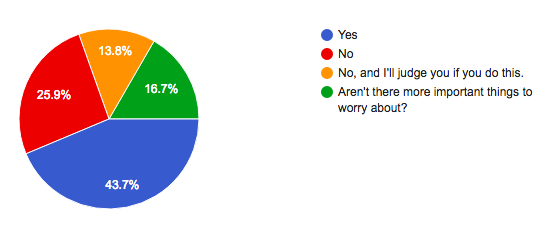 When I was in college, I definitely had pineapple on pizza a few times — and I don't remember finding it unnatural or anything like that. But I had bad judgment back then, so who knows how I'd feel now. On the other hand, a grilled slice of pineapple goes great on a burger.
11) "Which should Now I Know do next?"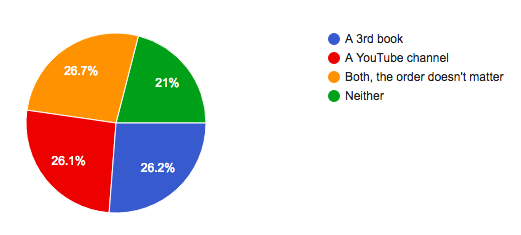 21% of you said "Neither"?!? Oof.
12) "Old MacDonald had a farm (E-I-E-I-O). And on that farm he had a ___________." 
I accidentally listed "Pig" twice, and as noted above, Google combined them into one slice. That's OK, in this case, because it was an accident anyway.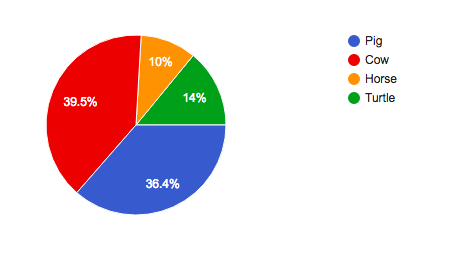 And "Pig" still came in second. "Turtle," by the way, is a great choice. Next time you're singing "Old MacDonald," yell it out and watch the chaos that ensues as everyone tries to figure out what sound a turtle makes.
13) "Are you an accountant?")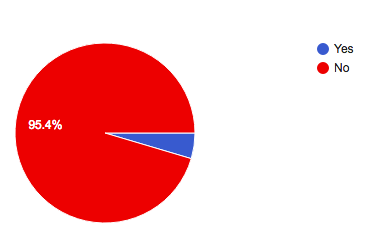 Don't ask, long story, and not a terribly interesting one at that. No, I don't need an accountant. But if I did, 4.6% of you qualify.
14) "The word "respite" most closely rhymes with the word"
There's a story here, though. I follow Hank Green, the YouTuber and now novelist, on Twitter. (He follows me, too, which I think is kinda cool.) In April, he posted this: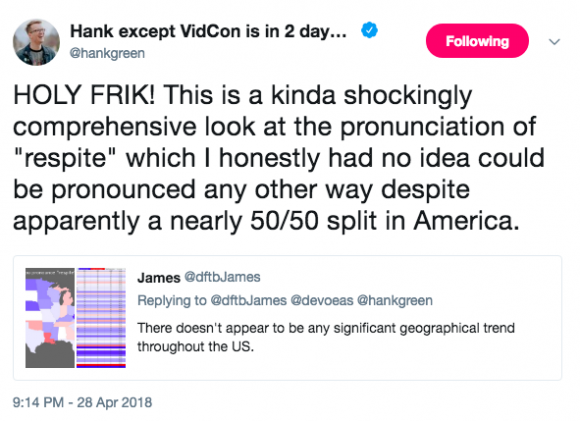 It links to a tweet (here) which has this map: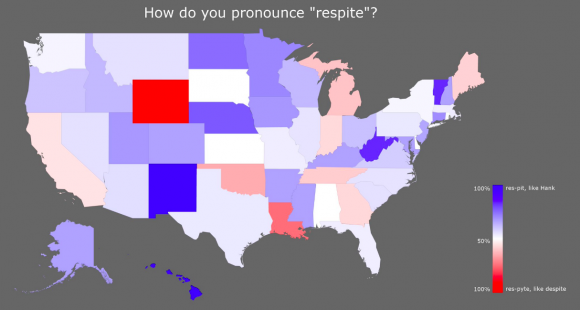 I, too, was shocked. I would only have pronounced it "res-pit" (i.e. rhymes with "desperate") and yet, about half of his poll, disagreed. I needed to know how you all felt. The results: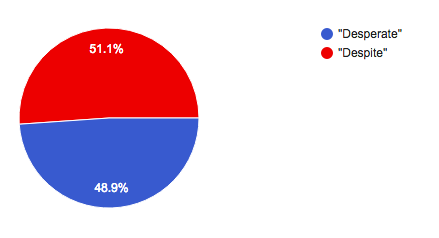 What?!?!
15) "Pick one" — The Golden Girls edition
Like the Harry Potter edition, I didn't spell out what this question was about. However, I gave an opt-out here, with "Huh?" being an option.
The Miami Four rank as Sofia, Rose, Blanche, and Dorothy given the above. That sounds about right, although I could quibble here or there. Not going to, though. For the 26.7% of you who answered "Huh?," though, congrats, you've won! You get to experience the Golden Girls for the first time. There's no rush — they're not making any more, so you won't fall further behind — but really, make the investment. It's worth it.
16) "Are you wearing shoes right now?"
This was a late addition to the survey — I think it was the last question I added. People read Now I Know in many different contexts; when they wake up, before they go to bed, with breakfast, while commuting, and yes, on the can. I figured that, therefore, a small percentage of you were reading while barefoot — how often do you not have shoes on in a given day? — but I was wrong. Wrong, wrong, wrong.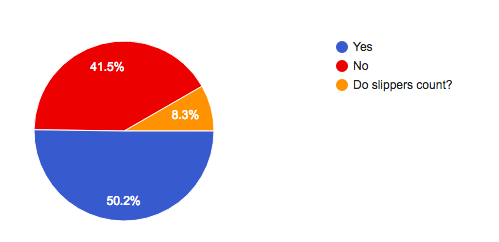 If slippers don't count as shoes, it's basically a 50/50 split. I'm floored, honestly. Maybe a lot of you don't wear shoes while in your own homes? Or walk around the office in socks? (???) Or are on the train, barefoot? Please, no, not that. That's gross.
17) "Star"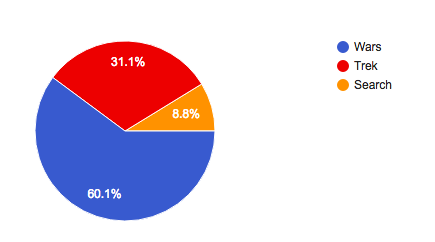 I'm a huge Star Wars fan. Huge. Okay, I haven't watched Clone Wars or Rebels, but my Star Wars fan resume is pretty stellar (sorry) otherwise. I played the collectible card game (albeit briefly). I have a copy of Epic Duels. I've read the Thrawn trilogy twice.
And the right answer here is Star Trek. It isn't close. (Even with Voyager and Enterprise.) By the way, this condensed DS-9 viewing experience is very good, and you can trim it down a lot more if you skip the Maquis episodes.
18) "When was the last time you recommended Now I Know to a friend?"
To the 43% of you who offered, kindly, to introduce a friend today, thanks.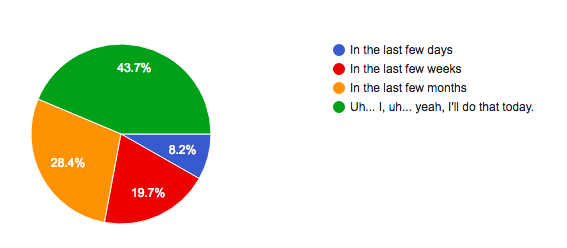 19) "The best brand of seltzer is"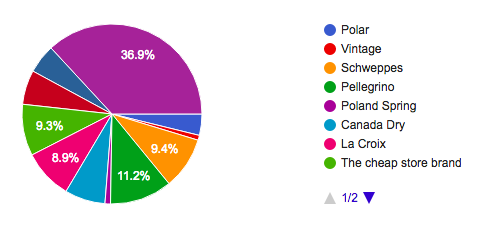 There were too many options for the screenshot. But the biggest answer — that 30.8% slice — was "seltzer is gross." It's an acquired taste, I think.
(Me? I go for whatever is cheapest except I don't like La Croix. It tastes like a bubbly fruit drink made for a ghost.)
20) "Do you own an Instant Pot?"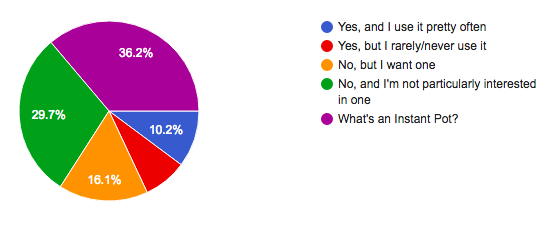 I own one. It's great. I use it pretty often. You can get one on Amazon, here, and I get a cut if you do.
To the 10.2% who own and use it often already, please share recipes. Thanks. Here's one of mine.
21) "Final Question! How long have you been reading Now I Know?"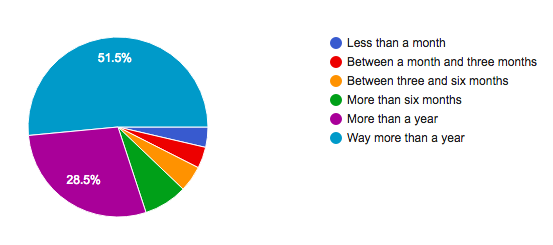 Wow.
Originally published on June 20, 2018