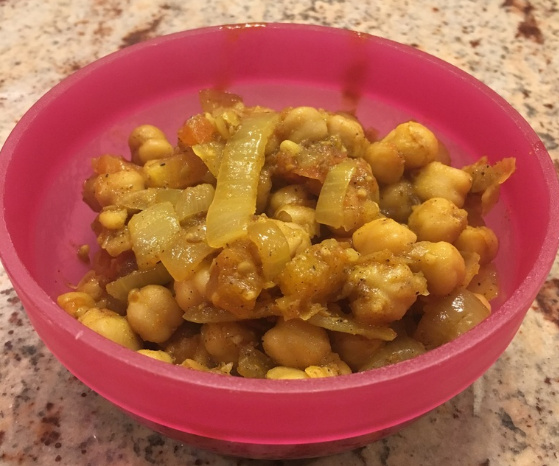 Ingredients
(Wherever possible, I'm linking to the actual product I used.)
Cumin seeds – about a tablespoon, maybe more. I was liberal with it.
Garlic – I have a jar of chopped garlic, and I use a lot of it, like 2-3 tablespoons, but I'm a bit nuts.
Two small/medium onions, sliced
Two 15.5 ounce cans of Goya chickpeas, rinsed and drained. (I also made another version with okra instead of chickpeas. For the okra version, I cut up about 20 ounces of okra instead of this.)
One medium tomato, cut into chunks but not diced too small
Tumeric, about ¼ teaspoon. Could go more.
Garam marsala, about a teaspoon. Could go more, to taste. I think I did tablespoon in the second one I made.
Salt, about a teaspoon.
If you're into it – I'm not – ¼ tsp of cayenne or red chili powder or flakes.
Directions
Put the Instant Pot on SAUTE mode. Put in olive oil, when it gets hot, put in cumin seeds and garlic. Stir for about 30 seconds.
Add onions, stirring again for about two minutes.
Dump everything else into the Instant Pot and stir. Let it saute for another couple of minutes.
Turn Instant Pot off (I guess to READY/KEEP WARM) and put on the lid. Make sure it is in "Sealing" mode.
Hit MANUAL and PRESSURE. Set it for two minutes. (Yes, only two minutes.)
When the timer is done, hit the quick release valve. You're done!
Originally published on October 31, 2017