There is an episode of Sex and the City where Carrie, the narrator/protagonist — a sex columnist for a New York City tabloid — manages to be in a book pitch meeting.  It seems like a natural fit, until the audience (and Carrie) find out that the lady she is meeting publishes children's books.  It's a bad fit, to say the least, notes Carrie, and she shares a laugh with her friends.  A sex columnist write children's books?  Crazy.  The rules do not allow for such things.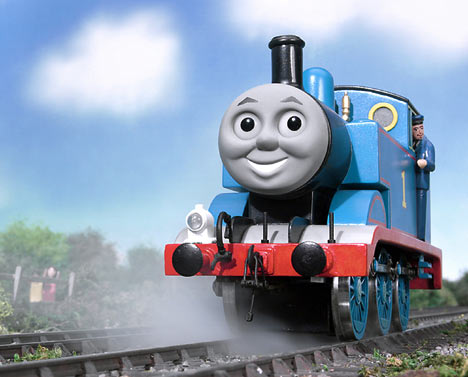 Just ask Britt Allcroft, creator of three children's television series, most notably Thomas the Tank Engine and Friends, a derivative of a half-century-old book series.  Thomas has only two speaking parts: a chorus of children who sing sing-along songs; and a narrator, who tells the story and speaks on behalf of the trains and other characters.
When Ms. Allcroft and her team sought a narrator, they assumedly did so with great care; after all, it is the only known voice for the entirity of an episode.   Allcroft and her successors attracted some great talent to narrate: Ringo Starr, Alec Baldwin, and Pierce Brosnan all narrated something from the Thomas franchise.
A few nights ago, while watching an episdoe with my son, I heard another voice  — familiar enough where I knew I had heard it before, but given the context, I could not place it.  It turns out that this narrator worked on 51 (!) episodes over most of the 1990s.  Per Wikipedia:
In 1991, he provided the narrative voice for the American version of the children's show Thomas the Tank Engine and Friends, a role he continued until 1998. He played "Mr. Conductor" on the PBS children's show Shining Time Station [another Alcroft show], which featured Thomas the Tank Engine from 1991 to 1993, as well as the Shining Time Station TV specials in 1995 and Mr. Conductor's Thomas Tales in 1996.
But that's not what he's most famous for.   Not even close.  And no one who popularized the Seven Dirty Words could possibly be the voice of a beloved children's show character.   Unless you're George Carlin, I guess.